The idea of a mini keyboard being anything but a toy was a prejudice I carried for a long time. But the more I read about Arturia and the Analog Lab software that came with the MINILAB, the more curious I became. It's price, $99, was doable at a time where I had little to no discretionary money to spend so I pulled the trigger. As far as purchases go it is one that I have no regrets about. Well built and pretty much ready to go out of the box, I used the MINILAB as my midi controller for the Original Stairway Project including all keyboard parts and for the 4 recorder parts.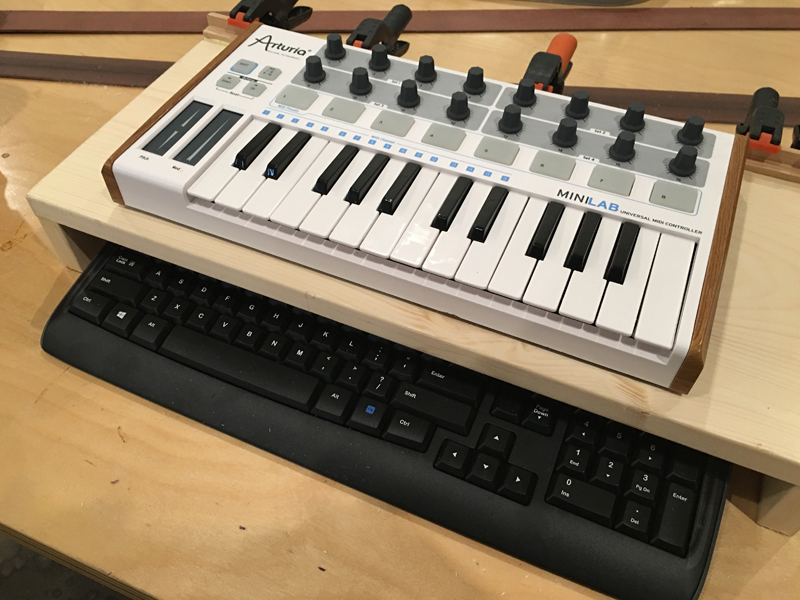 Because of the limited range (2 octave) playable at any one time on the keyboard, I split the parts up into two – right hand vs left hand, and cut two different keyboard tracks to cover off what I thought John Paul Jones was playing. What I lost by doing this and not having a full size keyboard was some of the syncopation that can only come by coordinating right and left hand parts simultaneously, but that didn't seem to be a deterrent to cutting the tracks. It probably helped me focus better on playing each part so in this case the limitation was also the victory.
One of the other things I did for the MINILAB when I set it up at my home studio was build a little tuck riser that would allow me to leave the keyboard on the desk and tuck my keyboard underneath it  if I wanted more space. I was really proud of this so I've included a photo showing it as I mocked up the design during construction.
I'd highly recommend a MINILAB for anyone wanting to get their feet wet with a Universal Midi controller. Arturia have announced a MKII version that looks even better for the portable musician. Check it out.
Feature IMAGE Credit Arturia Product Image